LAGOS Jan 17 Nigerian commercial banks toldcustomers on Sunday they would allow deposits of foreigncurrency to be transferred abroad from their accounts, just daysafter the central bank announced it was easing restrictions onforeign cash deposits.
Africa's biggest economy and top oil producer has been hithard by the drop in crude prices since it relies on oil salesfor about 95 percent of its foreign reserves.
The central bank last week announced that it would allowcommercial banks to accept cash deposits of foreign currency,reversing a restriction imposed last year when such depositswere banned to curb speculation.
Its policy shift came days after International Monetary Fundhead Christine Lagarde told Nigerian lawmakers that the IMF didnot support foreign exchange restrictions.
Stanbic IBTC and Guaranty Trust Bank (GT Bank)were among two commercial banks which sent emails and textmessages to customers informing them that transfers of foreigncash to accounts in other countries, which had also beenprohibited, were now acceptable.
"You can now transfer foreign currency cash deposits madeinto your GT Bank domiciliary account(s) via internet banking,Mobile App or at any of our branches nationwide, subject to adaily cumulative limit of $10,000," GT Bank said in an email.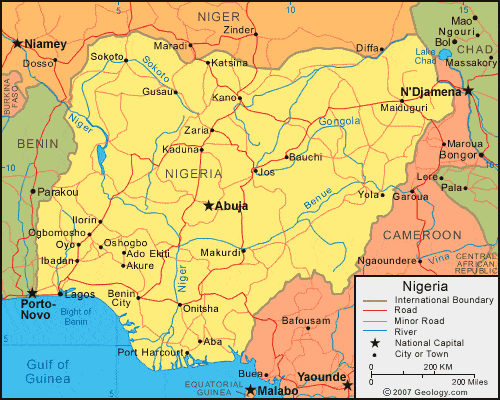 The central bank's announcement also halted dollar sales tonon-bank foreign exchange operators, a move that leavesNigerians struggling to find dollars on the parallel market amidtight liquidity.
The naira NGN=D1 is pegged at around 198 to the dollar onthe official interbank market but slid to a record low of 305 onthe parallel market last week amid low FX reserves.
Central bank governor Godwin Emefiele said foreign reservesin January stood at around $28 billion compared with $37 billionin June 2014, making clear the impact of reduced oil revenues.
Members of parliament's upper house, the Senate, havesummoned Emefiele to explain the currency's plunge on Tuesday.
(Reporting by Julia Payne and Chijioke Ohuocha; Writing byAlexis Akwagyiram; Editing by Richard Balmforth)
href='http://www.reuters.com/article/nigeria-cenbank-idUSL8N1510K4' - http://www.reuters.com/article/nigeria-cenbank-idUSL8N1510K4 -